So what is a Cuba Tourist Visa: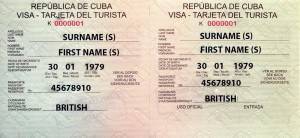 A Cuban Tourist Card or commonly known as a Cuban Visa or Cuba Holiday Visa; is a simple but crucial document that you need to have before boarding your flight to Cuba. A Cuba Tourist Card or Visa is a separate document other than your passport (Not a stamp in your passport) reason why we can issue it and post it to you promptly.
Adults, children and infants require one. For European residents, Cuban Tourist Card will allow you one entry / one exit, and a maximum of 30 days to stay in Cuba from your arrival date. A Cuban Tourist Card can be extended locally for another 30 days, this being the maximum any tourist is allowed remain in the country (60 days).
For other types of Visas for Cuba, please contact your nearest Cuban Consulate.
DO I NEED A VISA FOR CUBA?
UK/EU travelers, the answer is yes.
If you are UK / European traveller, going to Cuba for touristic purposes, all you will need is a Cuban Tourist Card. This include Adults, Children and Infants. For any other type of Visas, please contact the Cuban Consulate directly. There is no such a thing as Tourist Cards on arrival.There are a few Countries that are exempt from a Cuban Tourist Card please: CLICK HERE to find out more.
Who Can Cubavisa.uk issue Tourist Cards for?
We can only issue Cuban Tourist Card to Passport Holders of the following Countries: EU, EE.UU, Switzerland, Norway, Iceland, Canada, Australia and New Zealand living and departing from the UK or Europe, and NOT on direct travel from the USA to Cuba. USA – Cuba direct travel requires a Tourist Card issued in the USA only.
Citizens from other Countries, please contact your nearest Cuban Consulate as it might be required to present additional documents for a tourist application.
How much does a Cuban Tourist Card cost?
The Cost of your Tourist Card is £ 17 + Admin fee + Postal Service.
What are the Requirements before I purchase a Cuban Tourist Card online?
EU, Canada, Australia, Japan, South Africa or the USA will have to have at least valid for two months or more from return date from Cuba. Passport holders of other nationalities will need a minimum of Six Months left of their passports from return date.
Issued Flights in/out of Cuba
First night accommodation booked (Hotel, Private B&B or Cruise)
Not flying from the USA directly to Cuba. This only applies if you are flying from the USA to Cuba, if you are travelling by sea, you will be able to apply with us for a green Tourist Card.
Below we have a table explaining costs, time to process and Method of Delivery: