So what is a Cuba Tourist Visa: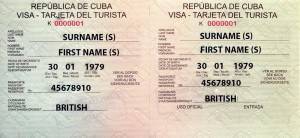 A Cuban Tourist Card or commonly known as a Cuban Visa or Cuba Holiday Visa; is a simple but crucial document that you need to have before boarding your flight to Cuba. A Cuba Tourist Card or Visa is a separate document other than your passport (Not a stamp in your passport) reason why we can issue it and post it to you promptly.
Adults, children and infants require one. For European residents, Cuban Tourist Card will allow you one entry / one exit, and a maximum of 30 days to stay in Cuba from your arrival date. A Cuban Tourist Card can be extended locally for another 30 days, this being the maximum any tourist is allowed remain in the country (60 days).
For other types of Visas for Cuba, please contact your nearest Cuban Consulate.