Welcome to Cuba Visa
 

Get your Official Cuba Tourist Cards online, simple.
We Are Cuba Visa UK – Official Cuban Tourist Cards provider in the UK.
Hassle-free online application. Fast & Secure, Guaranteed.

Same Day office collection (during working days) if apply before 3 PM with Priority Service.

Next Working Day Postage, if applied before 14:15 Hrs with Priority service.

Tourist Cards dispatched from our London Office.

Our address is TravelFab, Chester House, 1-3 Brixton Road, London, SW9 6DE.

Our Contact telephone number is: 02071481727
Price: 27 GBP including postage using Royal Mail 1st Class-Signed
Pay safely online with a Debit or Credit card (Visa or Mastercard).
We only Charge once for Special (+ £7) or Priority Service (+ £12, which includes Special Delivery)
Our application allows you to fill in up to Ten Tourist cards at a time. you can make multiple applications as required.
With over 3000 Trusted Online reviews provided by actual customers.
Contact us shall you have questions during our working hours for a fast response.
IMPORTANT: A Cuban Tourist Card is a physical document that you need in your hands before your travel; we have to post this document to your home or work address. There is no such a thing as an electronic tourist Cuba card or Cuban Tourist card on arrival. Check with your tour operator, in case they do provide them with your holiday, before buying online. Everyone, including adults, children and infants, need to have a Cuban Tourist Card. We have a fast turnaround service with our priority service and even same day office collection (during working hours).
About Cuba Visa
Hola y Bienvenidos a Cuba Visa UK. A division of Travelfab Ltd, a tour operator that specialises in holidays to Cuba.
Cuba Visa is a one-stop shop for your tourist visa needs!
Yes, it's easy as one, two, and three–You can do it anytime and anywhere right at your fingertips. Cuba Visa UK is the answer to your tourist visa needs for Cuba. We can provide you with your tourist visa and deliver it right to your doorstep.

Why Cuba Visa?
We at Cuba Visa, take away the worries and hassle when it comes to acquiring your Cuba Tourist Visa, Great service and savings all the way. No need to personally go to the Cuban Consulate, we will do the processing for you and deliver it right to your doorstep, hassle-free.
Check our independently collected reviews page, where other holiday makers have left their feedback about our service.
---
Go to Cuba every year, last year was a nightmare trying to get tourist card direct from cuban embassy by post, as i forgot to enclose sae. no replies to email unable to contact by phone in the end had to employ a visa agent in london to go and collect it such heartache. this year tried cubavisa.uk …fantastic.. so easy to complete online no hassle with copies of invoices for hotels, flights. chose the special delivery option and had them back in 48hrs and i was kept informed of progress all the way through the process. painless… will definitely use cuba visa from now on.
VERIFIED REVIEW
---
was very impressed with Cuba visa's services. After having phoned them with a few questions regarding the pickup option, I applied online on Monday night and collected the cards as agreed on Thursday (I think it could have been earlier) as I didn't want to risk delay or loss in the post. Very efficient and highly recommended
VERIFIED REVIEW
---
Just got back from my trip to Cuba. Cubavisa.uk met and exceeded expectations. I was wary about choosing the right place to get my tourist card as it is an important document that is required for entry into Cuba. I'd read that you can get travel cards from the Cuban Embassy in the UK, and I am normally quite wary about independent providers who might not be genuine. A friend of mine had already visited Cuba with a travel card from Cubavisa.uk, so I decided to do the same. Opting for office collection, the office was a short walk from Vauxhall tube/bus/rail station. The Cubavisa.uk representative was really nice and he explained a bit about the travel card and asked me about my trip. Cubavisa.uk is highly recommended. I will be using again for my next trip to Cuba, which hopefully won't be too far in the future!!
---
Absolutely super service. Forms were easy and quick to complete. Excellent price. Speedy delivery. All in all excellent service. I would highly recommend.
Do you need a visa to go to Cuba from the UK?
Yes, you do. A Cuban Tourist Card, commonly known as a Cuban Visa or Cuba Holiday Visa, is a simple but essential document you must have before boarding your flight to Cuba. The airlines will not allow you to fly without a Cuban Tourist Card, so you must obtain one before you go. A Cuba Tourist Card or Visa is a separate document other than your passport (Not a stamp in your passport for most countries); the reason why we can issue it and post it to you promptly by post.
Adults, children and infants require one. A Cuban Tourist Card will allow you one entry/exit and a maximum of 90 days to stay in Cuba from your arrival date. A Cuban Tourist Card can be extended locally for another 90 days while in Cuba, this being the maximum any tourist is allowed to remain in the country (180 days).
Please get in touch with your nearest Cuban Consulate for other types of Visas for Cuba. There is no such thing as Tourist Cards on arrival. However, if you travel with a tourist card with a mistake, the airline might allow you to go and ask you to buy another one upon arrival.
A few countries are exempt from a Cuban Tourist Card; please: CLICK HERE to see a list of Countries that are exempt of a Tourist Card to find out more.
WHAT ARE THE REQUIREMENTS TO GO TO CUBA:
Have a valid passport for at least two months left from your return date for all UK/EU nationals. Other nationalities or with a UK visa will need at least six months left on their passports from your return date.

A CUBA VISA is also known as a Cuban Tourist Card that you need before your flight.

Flights Booked – in and out of Cuba.

First night accommodation booked (Hotel, Private B&B or Cruise). Although you can book this up to the day before you travel, it is an integral part of your travel. The Cuban Consulate in London recommends having at least the first night booked when you arrive in Cuba.
WHAT ARE THE REQUIREMENTS TO GO TO CUBA IF GOING FROM OR CONNECTING FLIGHTS VIA THE USA:
If you are Flying from the USA to Cuba (You will need a Pink Tourist Card). A Pink Tourist Card only applies to anyone flying from the USA to Cuba, regardless of your nationality. 
Contact the airline that you will be using to travel from the USA to Cuba. They usually sell them at the airport and varies depending on the airline.
Click here for all OFAC regulations
If you travel via another country like Gran Cayman, Mexico, Canada, you will need a Green Cuban Tourist Card.
HOW LONG DOES IT TAKE TO GET A CUBAN TOURIST CARD:
With our service, you can get a Cuban Tourist Card within 24 working hours ( Mon – Fri) using our priority service.
We also offer Standard Service, which takes between 7 to 14 working days. Depending on how soon you need your tourist Card, we can help.
Office Collection is also available for customers who order in Priority Service.
Contact us for more information on 0207 148 1727.
HOW MUCH DOES A TOURIST CARDS COST:
The prices in the table below show the cost, including all admin charges, with no hidden fees. 
We recommend adding Special Delivery to your application as it is a more secure way of receiving your documents.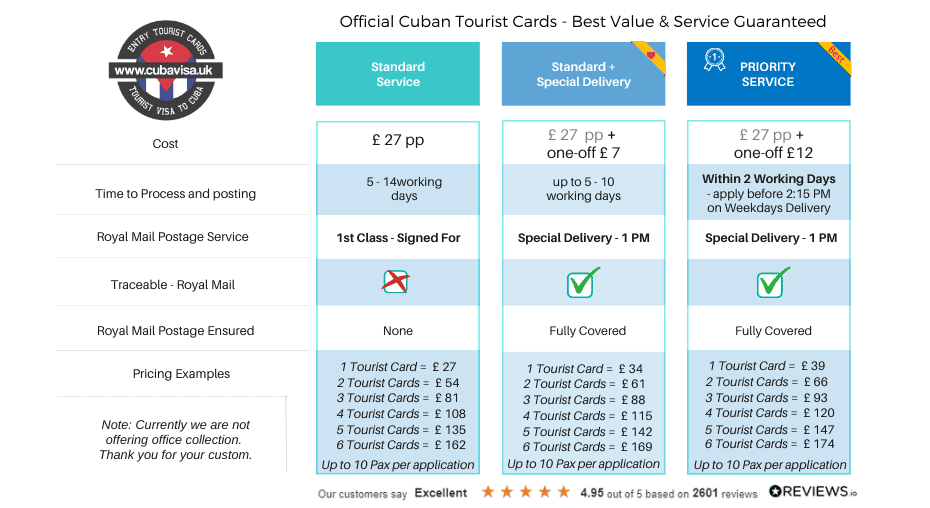 Do I need a Visa and a Tourist Card to travel to Cuba?
If you travel to Cuba as a tourist, you will only need a <a href="https://www.cubavisa.uk/cuba-visa-application-form/">Cuban Tourist Card</a>.
The information provided by the FCO Travel to Cuba page does mention that you can get a tourist card from: https://visasonline.cubaminrex.cu/en, which currently is not fully working and has created confusion for some travellers. You only need a Tourist card that you can get with us or with the Cuban Consulate.
How can I get my Cuba Visa for my TUI Holiday or TUI Flights?
We at CubaVisa are happy to help all customers, and everyone gets the best value and service. If you booked a TUI Holiday or Flights you can certainly use our service.
I have an Indian Passport can I get a Cuban Tourist Card with you?
Yes, you can. Simply choose your citizenship on the online form. From 1st June 2022 you can now apply online for your Cuban Tourist Card.
The information provided by the FCO Travel to Cuba page does mention that you can get a tourist card from: https://visasonline.cubaminrex.cu/en, which currently is not fully working and has created confusion for some travellers. You only need a Tourist card that you can get with the Cuban Consulate or with us.
How can I apply for a Cuba visa?
To apply for Cuba Visa, 1. You can fill out our online application form. You will need your passport information. Your passport has been valid for two months after your return date, although we recommend having it longer if you need to change your travel dates. 2. Complete online payment. 3. Receive your tourist cards at your home address and travel to Cuba.
How do I fill in the Advance Passenger Information before travelling to Cuba
If you travel to Cuba, you must complete the Advance Passenger Information (or Health Declaration form) online. You can do this within 72 hrs before your flight. Please note that this is not the same form for a Cuba Visa, but the Traveller Declaration Forms that you had to fill in in a paper format before you arrived in Cuba will have to be done electronically. Once completed, save or print that PDF file containing a 3D barcode as you need to present it upon arrival in Cuba.
Please visit Dviajeros Cuba and choose your corresponding language to fill in your Advance Passenger Information.
How long with it take to get my Visa for Cuba?
If you use our priority service, it will be within 24 Hours ( apply Mon – Fri, before 2 PM for next working day delivery). Any questions, do not hesitate to contact us.
How do I get a tourist visa for Cuba while in the UK?
Applying online is by far the easiest and most cost-efficient process.
Complete your application at Cuba Visa Application form
Revise your confirmation email, in case there are some mistakes, this is the perfect time to email us back if any amendment, if not nothing else to do.
Pay online safely and fast.
Your tourist cards will be posted to you by Royal Mail.
Once you receive your tourist card(s) take them with you and keep them with your passport while in Cuba.
Before you leave Cuba, they will be taken by the immigration officer.
You can always contact us on 02071481727 or email us [email protected]
Who is flying to Cuba now and what you do when you arrive in Havana?
(March 2021). Airlines like Iberia/BA do have flights travelling to Cuba.
My travel dates have changed, what do I need to do?
Our tourist cards are valid to travel even if your dates change. Simply re-do your "Advanced Passenger Information" form up to two days before arriving in Cuba.
Do you offer Office Collection?
We have opened Office-Collection for customers who are travelling within four days. Just apply online and choose the nearest available travel date on the application online (Departure date – Page 3 – Cuba Visa). Continue the application as usual. Once you complete payment, you will receive a confirmation email from [email protected], and please reply to this email telling us who will come to our office to collect your tourist card(s). Our address is close to Oval Tube Station in London.
How much is a tourist visa for Cuba?
A Cuban tourist card costs 27 GBP for standard service. We only charge once for Special Delivery ( 7 GBP) or Priority Service ( 12 GBP – includes Special Delivery).
You can apply for up to 10 tourist cards at a time. This is to avoid making mistakes.
You can apply for more and contact us so that we can merge them into one envelope.
Group tourist cards are available by emailing us at [email protected]
How long does it take to get a visa for Cuba?
We can get your tourist cards issued very quickly ( Monday to Friday ) and get them posted for next day delivery.
You will need to apply before 3 PM for the next working day delivery, valid Mon – Fri.
Urgent office collection is also available. Once you apply online, reply to your confirmation email, and we will have them ready even for same-day office collection ( Monday to Friday, except Bank Holidays).
Can I get my Cuba Visa upon arrival to Cuba?
Airlines will not allow you to fly without a Valid Tourist Card; there is a penalty that the airlines will get if they allow you to do so, hence the importance of getting one before departure.
Simply apply for you Cuba Visa online and put your mind at rest.
Can I buy my Cuban Visa at the airport?
Some holidays include your Cuban tourist Cards; we recommend checking with your tour operator or airline to see if they include them for you.
If the tour operator or the airline has not included them, best to apply for them online.
I had flights with TUI, can I get a tourist card from you?
Yes, you can. Our tourist card is valid to enter Cuba from Anywhere (except from The USA) to Cuba. Simply, apply online.