IMPORTANT: A Cuban Tourist Card is a physical document that you need in your hands before your travel. We need to post this document to your home or work address. There is no such a thing as an electronic tourist Cuba card. Adults, children and infants need to have a Cuban Tourist Card.
Note: if you need help booking flights, accommodation or anything else, please feel free to contact us below or at  TravelFab
About Cuba Visa
Hola y Bienvenidos a Cuba Visa! A division of Travelfab Ltd, a tour operator that specialises in holidays to Cuba.
Cuba Visa is a one-stop shop for your tourist visa needs!
Yes, it's easy as one, two, and three–You can do it anytime and anywhere right at your fingertips. Cuba Visa UK is the answer to your tourist visa needs for Cuba. We can provide you with your tourist visa and deliver it right to your doorstep.

Why Cuba visa?
In Cuba Visa, we help you take away the worries and hassle when it comes to acquiring your Cuba Tourist Visa, Great service and savings all the way. No need to personally go to the Cuban Consulate, we will do the processing for you and deliver it right to your doorstep, hassle-free.
What our customers are saying:
Reviews conducted by Third Party independent company Reviews.co.uk
---
Really great and speedy service. I didn't receive my confirmation email at booking. Rang them and they were very helpful, friendly and professional. They resent the email and my cards arrived within days. Have recommended them to other family members who are also travelling to Cuba.
VERIFIED REVIEW
---
was very impressed with Cuba visa's services. After having phoned them with a few questions regarding the pickup option, I applied online on Monday night and collected the cards as agreed on Thursday (I think it could have been earlier) as I didn't want to risk delay or loss in the post. Very efficient and highly recommended
What is a Cuba Tourist Visa?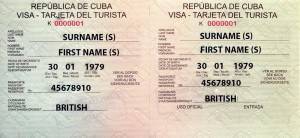 A Cuban Tourist Card or commonly known as a Cuban Visa or Cuba Holiday Visa; is a simple but crucial document that you need to have before boarding your flight to Cuba. A Cuba Tourist Card or Visa is a separate document other than your passport (Not a stamp in your passport) reason why we can issue it and post it to you promptly.
Adults, children and infants require one. For European residents, A Cuban Tourist Card will allow you one entry / one exit, and a maximum of 30 days to stay in Cuba from your arrival date. A Cuban Tourist Card can be extended locally for another 30 days, this being the maximum any tourist is allowed remain in the country (60 days).
For other types of Visas for Cuba, please contact your nearest Cuban Consulate.
How much does a Cuban Tourist Card cost?
The Cost of your Tourist Card is £17 (Admin and Postal Service not included)
What are the Requirements before I purchase a Cuban Tourist Card online?
EU, Canada, Australia, Japan, South Africa or the USA will have to have at least valid for two months from return date from Cuba. Other nationalities will need a minimum of Six Months left of their passports from return date.

Flights Booked

First night accommodation booked (Hotel, Private B&B or Cruise)

Not flying from the USA directly to Cuba. This only applies if you are flying from the USA to Cuba, if you are travelling by sea, you will be able to apply with us for a green Tourist Card.
Below we have a table explaining costs, time to process and Method of Delivery:
Medical Insurance required for Cuba:
Medical Insurance is ideal to have before you arrive. It's worth to mention that Travel Insurance is highly recommended making sure it does come with medical cover….. read more
Travelling via or from the USA:
There are a few nations that do not require a tourist card….. read more
Countries exempt of a Cuban Tourist Card:
There are a few nations that do not require a tourist card….. read more
Terms and Conditions:
Our full terms and conditions please click here